Get Connected!
Elim Cafe offers Wi-Fi with internet access. Bring your laptop, smart phone, or tablet and browse while you enjoy fresh food and drinks.


Now serving beer and wine!
Elim Cafe now offers a selection of beer, wine, and sake, with several local craft brews to choose from. Beer is available both in-bottle and on tap.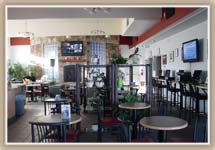 Our Cafe
"They came to Elim where there were twelve springs of water and seventy palm trees." - Exodus 15:27
Elim Cafe opened in the spring of 2008. Suk Ball, the owner of the cafe, was inspired to name the cafe Elim Cafe because of a bible verse in Exodus. This verse described an oasis that the Israelites came across in the desert during the exodus from Egypt. Suk decided that this was a perfect description for the type of cafe that she wanted to build; an oasis where people could come and relax, be comfortable and have fun. Thus Elim Cafe came to be. An oasis in a busy world, where, in addition to great food and drinks, people can find just a bit of peace of relaxation.



Elim Cafe Conference Room
Our conference room is perfect for lunch meetings, group dinners, or any other get-together where a quite private area to chat is what you are looking for. This room seats between 8 and 15 people and features an LCD screen with computer hook-ups.

More